The first round of the playoffs is a pretty exciting time all around for the NBA. For fans it's a celebration, welcoming back the playoff basketball that we love so much. For players and coaches, it's what they've been practicing for all year, and the start of their journey towards the Larry O'Brien trophy and for teams that aren't playoff regulars it's a sigh of relief that they made it. For all these reasons, the first round of the playoffs is a time of jubilation. Every team gets their turn to host at least 2 home games, and this is a great time for teams to release their new t-shirt designs to give away to ticket-holders and pump up the crowd, as well as invigorate fans and get them invested in their team for the rest of the playoffs. The result of all this is that almost every team that made the first round has a new t-shirt design celebrating the position they're in, and in this post I'm going to rank them all. If you disagree, fair enough, you can complain to me on twitter @jackneubecker. Otherwise, let's get things rolling.
The Sickest Tees
The are by far my favourite t-shirts, and would consider buying one myself. To get into this category it has to have a cool design and enhance my excitement for your team.
Toronto Raptors – "WE THE NORTH"

Coming in at number 1 to nobody's surprise, the Raptors. "We The North" has been the identity of the Raptors since they released the slogan before last year's playoffs, and the t-shirt gets easy points in that department. The raptor claw marks are also a favourite of mine, so this year's design is easily my favourite. It's a shame they've been upset in the first round the last two years, maybe "the north" isn't all it's cracked up to be. This shirt makes it over the Rip City t-shirts purely because of all the variations they've been churning out these playoffs.
Portland Trailblazers – "RIP CITY"
Just like the Raptors' t-shirts, Rip City has encapsulated the identity of the Blazers, it's no doubt the coolest alternative uniform in the NBA, and it's also my other favourite team shirt. The Rip City persona is on point from the Blazers, the edgy font, the logo that seems to have no meaning but looks absolutely insane, and the two-tone stripes make for the coolest t-shirt out. My Blazers love is clearly showing here and I'm not ashamed.
San Antonio Spurs – "#GOSPURSGO"
Continuing on with the "disappointing first-round exits" theme so far, we have #GOSPURSGO. I'm a big fan of the Spurs embracing the hashtag, some might not like it, but I've always been a fan of the hashtag in designs. Adding the Spur as the 'U' is also a nice touch and makes for a professional but entertaining t-shirt, just like the Spurs out on the court. "Go Spurs Go" has also been a popular chant at home games for quite a while now, so it's cool to have them incorporate that into their t-shirt.
Memphis Grizzlies – "GRIT. GRIND."
Speaking of identity, does it get any more accurate than grit and grind when it comes to the Grizzlies. I rank this one highly purely because of the awesomeness of the slogan. The t-shirt is mediocre but how can you possibly go past that alliteration, not just of the first letter but G, R and I. Not just Grit and Grind but Grizzlies too. The slogan is just so on point I can't go past it, the Grizzlies font just tops everything off for a sweet minimalistic t-shirt all-round.
I Can See What You're Trying To Do
This category is for the t-shirts I would consider above average to average, but they don't get me pumped up about your team like the above t-shirts do. They've generally got solid design, but the slogans for me are a let down, being generally corny to say the least.
New Orleans Pelicans – "NOLA PLAYS ON"
"NOLA PLAYS ON". "No you don't", say the warriors. They lose points for even trying to be optimistic about a series victory, but other than that I absolutely love this shirt. The naïve optimism in a way encapsulates the Pelicans attitude, so in a way the identity element is there, but it's not the sort of identity you want to have. But seriously this is a great t-shirt, I love the pelican logo as much as every other New Orleans sports logo, and the font they've got going on with all their designs at the moment is brilliant. The fact they got sweeped is the only reason I wouldn't buy this shirt. The fact they've had so long since their last playoff appearance means they've probably had this design in mind for quite a while.
Los Angeles Clippers – "WE ARE RELENTLESS – WE ARE LA"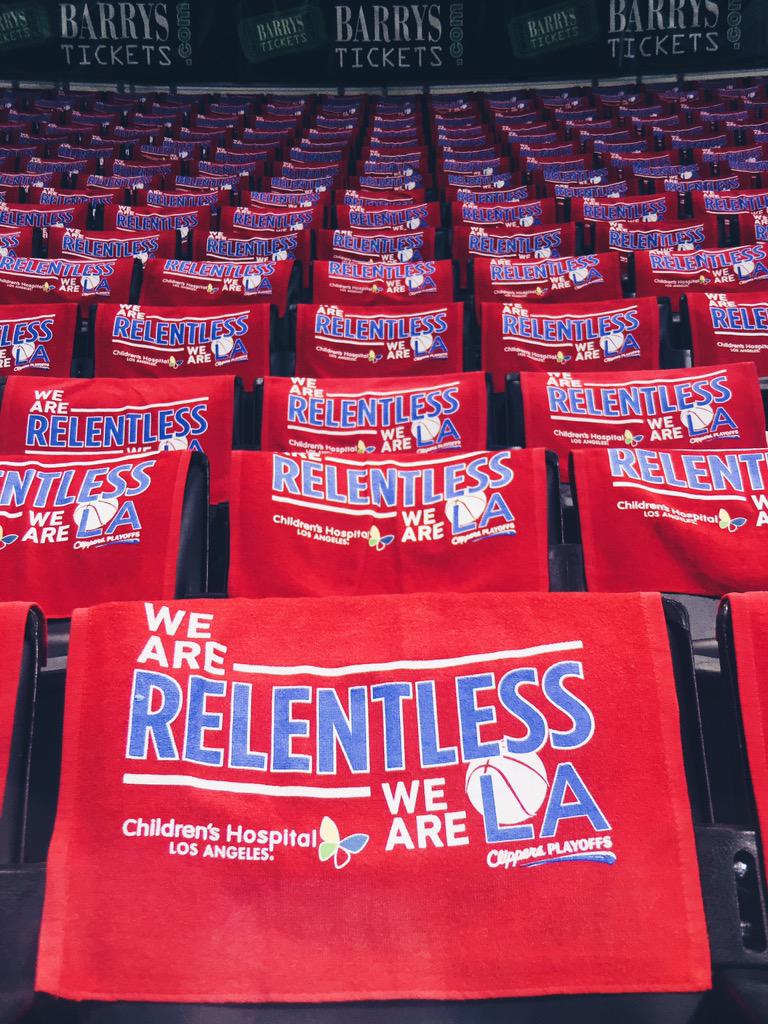 These were the t-shirts given away at game 7 against the Spurs, and it happened to be the loudest Clippers crowd I've heard in a long time, so there's got to be something good about these shirts. I also like that they just say "We Are LA" as a complete kick in the balls to the Lakers. Remember when Los Angeles meant Lakers not Clippers? What a hazy memory involving lots of Baron Davis and Chris Kaman that was. Anyway, the shirts looked good in the stadium as well, and that helped to bump this one up the list.
Washington Wizards – "#dcRISING"
I like how they've incorporated the 'dc' logo that I'm a big fan of, and thrown in a hashtag. The font looks good, my only concern is that they've tried to throw too much in there and it's all out of alignment. The t-shirt also looses points because of the fact that I didn't hear or read a single person say #DCRISING for the entire playoffs, there's not much character to the design. Props to the Wizards for finishing things off at home though and getting that sweep.
Golden State Warriors – "STRENGTH IN NUMBERS" 
"Strength In Numbers". Really? This is one of my least favourite slogans. The Warriors don't have strength in numbers over any other team, you're only allowed five players on the court. They could have gone with something so much cooler, there's so many other reasons why the Warriors are kicking butt this year. I would have been happier if they'd just put a picture of Steve Kerr's face on the front. They could have used the splash brothers, shooting, pace, offense, defense, winning basketball games, anything OTHER THAN "strength in numbers". Yawn. But outside of the slogan the t-shirt actually has a pretty good design, I like the colour combination, the font is a bit generic but it's striking.
Better Than Nothing…
The following t-shirts I do not like at all, they're bland or uninteresting or don't make much sense, but… it's better than not having a t-shirt at all to wear to the game, so I guess it was worth it.
Cleveland Cavaliers – "ALL IN"
I do like the "all in" thing that goes with the Cavalier theme and their official slogan, "All for One, One for All", but overall this t-shirt lacks imagination and creativity, there's nothing inspiring about this t-shirt that i can look to, the font is generic, they used the wrong logo, they should have gone for the one with the sword to go with the cavalier theme, and they used the blandest blue possible. A bunch of fans in the crowd wearing dark blues doesn't strike fear into the opponents eye at all compared to a striking, bold colour like yellow, red, white, etc., for all these reasons I give this shirt a D-. Let's hope they were saving up their good t-shirt for the second round.
Atlanta Hawks – "TRUE TO ATLANTA"
WHERE IS THE PACMAN? Oh there it is nice and small. No I want it to be nice and big because it's so cool. I celebrated the return of the Pacman logo, and it's been a big part of the whole revitalisation of their franchise, why not make it focal to the t-shirt, I would buy the hell out of that shirt. Plus, what does "true to atlanta" even mean, you could put any city name after that and it would make as much sense, so the slogan is also subpar. There are elements I like about this t-shirt, namely the colour and the logo, but I'm just disappointed because they could have done more. Just like the Cavaliers' t-shirt, let's hope they've got a better one up their sleeves next series.
Chicago Bulls – "SEE RED"
See Red? Really? Red. That's what you're going with. In case you hadn't noticed, Bulls, you don't have a monopoly on the colour red, there are no less than 5 other teams in the playoffs with red t-shirts. I guess you get some ownership because Bulls get mad when they see red, but come on, it's not that good. Plus what's the go with the 4 stars down the bottom, what's that for? Why couldn't it be 6 to symbolise the rings you've won, or no stars, symbolising the rings you've won without Michael Jordan. I don't like that every element in red either, it makes it hard to read.
Why Didn't You Just Stick With The Default Designs?
The following two teams have put so little effort into their t-shirts it's embarrassing, and I would make the call that unlike the previous group, they are in fact worse than nothing. These two teams remind me of the group that decides to do their own experiment for the science project instead of one of the suggested ones, and it ends up massively backfiring on them and they end up with nothing to show for when it comes to marking the projects. There are two nice default designs out there you could have used, "THIS IS DALLAS" and "OWN THE PLAYOFFS" would have looked much better. Hell, even the plain black t-shirt with "NBA PLAYOFFS" print would have been a better choice.
Dallas Mavericks – "MFFL Strong" 
Hey, that's decent, what does MFFL stand for? Is it somebody with cancer or something? Oh, no, it means Mavs Fan For Life. That's not good. Oh that's quite bad actually. This design is an absolute shocker and the slogan is worse. I hate the unnecessarily complicated font, the block text, the 3D effect they went for, it just doesn't work. This whole t-shirt is just an embarrassment, Nothing about it is appealing to me except for the nice blue colour. This is a the science project where they tried to go for a much more exciting experiment and they've gone over the top and almost killed somebody. I give this science project an F.
Brooklyn Nets – "PLAYOFFS FOR BROOKLYN"
Playoffs for Brooklyn… Playoffs are for Brooklyn? Playoffs, we're for Brooklyn? Neither of these really make any sense, especially considering the playoffs weren't built for the Nets, that's for sure. You know what, I wish the Pacers made the Playoffs, they would have come up with a much better slogan. And they have more interesting colours than black, white, and really really dark grey. The mere sight of this shirt sends me into a state of confusion. Unlike the previous science project, this one went the other way, they came up with their own experiment, but it was so bone-headedly simple that they didn't demonstrate any knowledge and ended up getting an F-. This one is just so disgusting and bland, but I can't even blame the designer too much because he's working with the worst colour palette in all of sports history, and a team whose only defining characteristic is having shredded knees or playing bingo on weekends.
Some teams failed to hand in an assignment, namely the Bucks, Rockets and Celtics. That wraps up my power ranking of all of the first round t-shirts, I hope you enjoyed, and look forward to more discussion as well as Elliott's opinion on the podcast that will be dropping on monday night Australian Time.